Classification of vehicles – vehicle terminology
Road user
All persons travelling in a vehicle or walking, cycling or riding along a road are classed as road users.
Vehicle
A device on wheels, tracks, runners or similar which is designed primarily for travel on land, and which does not run on rails. Vehicles are subdivided into motorised vehicles, trailers, towed vehicles, sidecars, bicycles, horse-drawn vehicles and other vehicles.
Motorised vehicles

Motor vehicles

Car

Private car

Class I (normal)

Class II (campers, etc.)

Lorry
Bus

Motorcycle

Light motorcycle

Heavy motorcycle

Moped

Class I (EU moped)

Class II

Tractor

Class I (traffic)

Class II (agriculture)

Heavy equipment
Terrain vehicle

Off-road vehicles

Terrain scooter

Trailer

Light trailer

Heavy trailer

Towed vehicle
Sidecar
Bicycle
Horse-drawn vehicle
Other vehicles
For full definitions, see legal text about road traffic definitions.
Speeds for different vehicles
Signs apply to
Private cars.
Motorcycles.
Light lorries.
Buses with a maximum total weight of 3.5 tonnes.
Max 100 km/h
Heavy bus.

All passengers must have access to a seat belt; otherwise max 90 km/h.
Max 90 km/h
Heavy bus where seat belts are not available for all passengers.
Heavy lorry on motorway and clearway.
Max 80 km/h
Car with a trailer or camper with brakes.
Car with a trailer or camper without brakes which has a total weight (or unladen weight) not exceeding half of the car's unladen weight.
Heavy lorry (90 km/h on a motorway or clearway).
Max 50 km/h
Heavy off-road vehicle.
Tractor B.
Heavy equipment class I.
Max 45 km/h
Moped class I (EU moped).
Max 40 km/h
Tractor A.
Car with unbraked trailers whose total weight exceeds half of the car's unladen weight.
Tow truck with vehicle suspended at the rear.
Max 30 km/h
Towing (normal car–car with tow rope).
Car with towed vehicle.
Older moped ("30 moped").
A tractor ("EPA tractor").
Max 25 km/h
Max 20 km/h
Motorised vehicle on tracks.
Off-road vehicle on normal public roads.
Max 10 km/h
Motorised vehicle or trailer with hard wheels (e.g., steel rings).
Theory test with video questions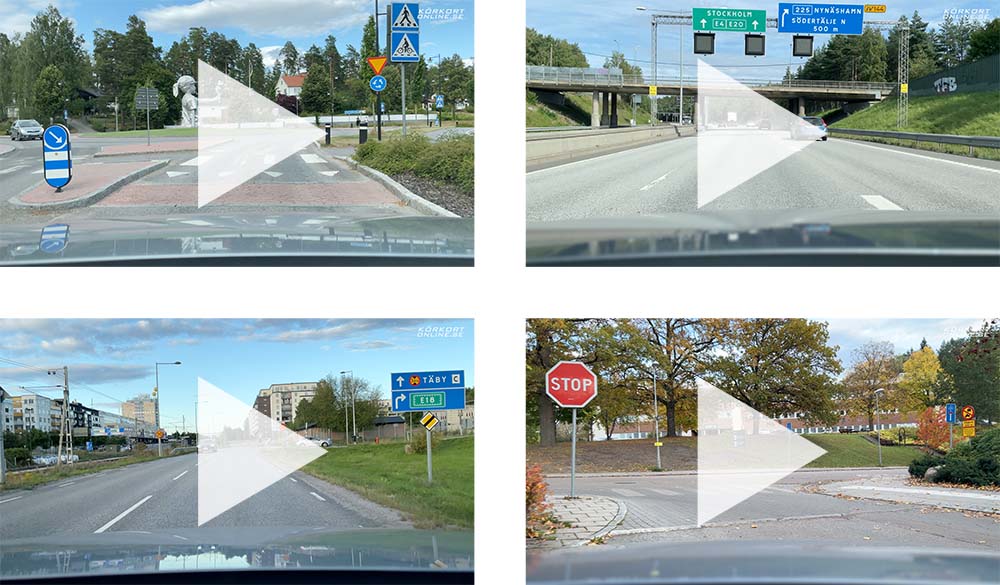 Free demo – try 65 questions
Last updated 2020-10-05.